Haoqi Ebike's Holiday Buying Guide | Haoqi Ebike
 Are you worried about finding the perfect present this holiday season? Do you have a few difficult-to-shop-for loved ones who need something special this year? Do you want to WIN Christmas this year by giving the best present ever? Well, the anxiety is over!
A high-performance electric bike is the best Christmas present guaranteed to impress them this season! A new ebike is an ideal way to sleigh your Christmas list. Haoqi Bikes has one of the most diverse collections of fantastic ebike styles and models, all of which come standard with best-in-class performance, safety, and comfort features.
Electric bikes are on their way! And we're happy to have created many Haoqi items that are excellent options in this new market. However, whenever there is a rush to a new product, there is an inevitable flood of misleading information. That's why we have prepared this brief advice on what to look for when purchasing an ebike.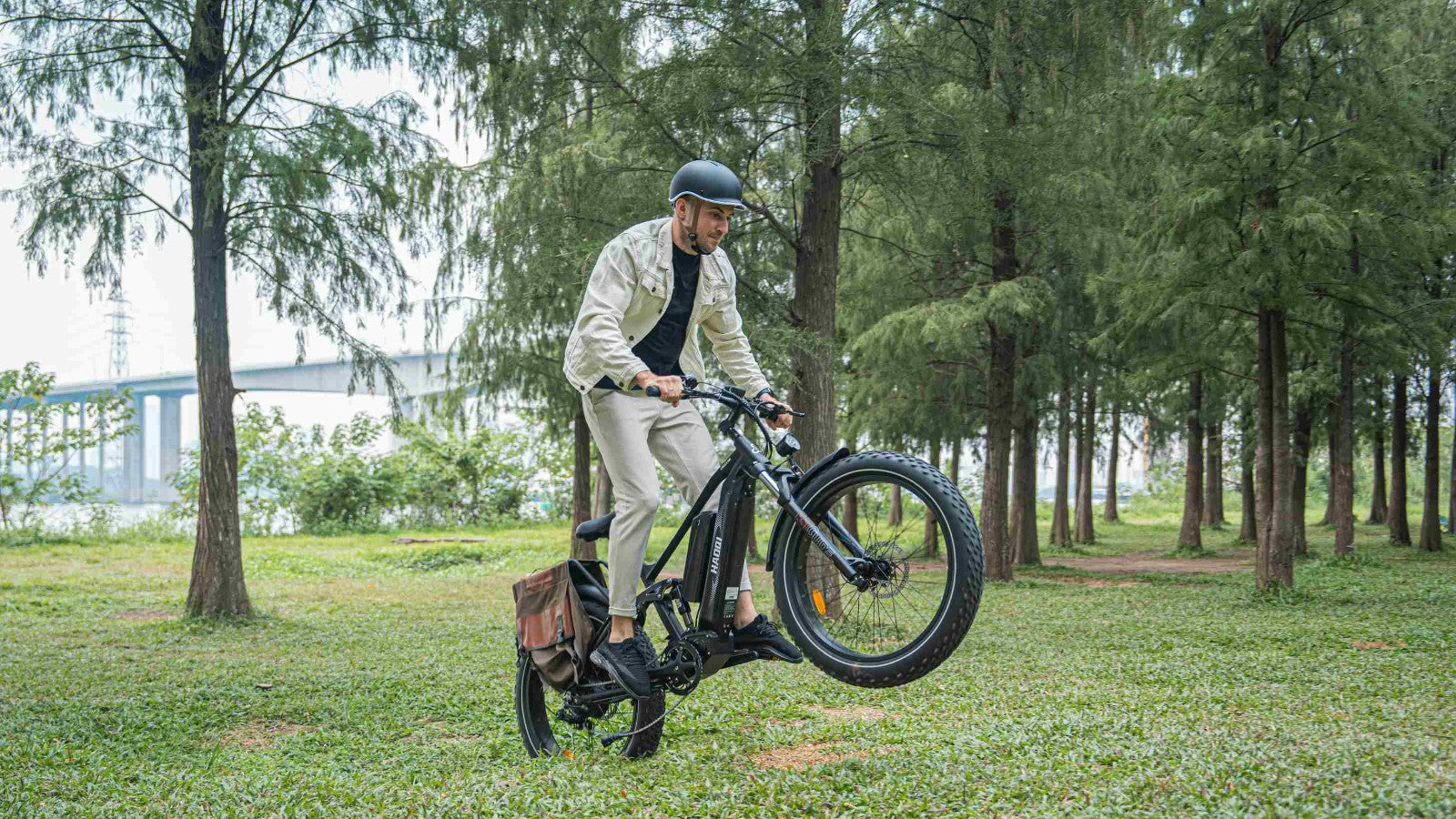 #1 Battery Capacity
One of its most appealing features is the number of miles an electric bike can travel before running out of power. As a result, several electric bike manufacturers have been making crazy-range claims without supporting them with real-world testing. Of course, other aspects influence an electric bike's range. However, as a general rule, you may draw some inferences based on the supplied battery's watt-hours (Wh)* rating.
Watt-hours, or Wh=V*Ah, are equal to battery voltage multiplied by amp-hours.
250-500 watt-hours
A battery with less than 500 watt-hours is often intended for bikes with lower-power motors and shorter ranges. This includes any batteries with a capacity of less than 10.5Ah when used on a 48V bike. If an electric bike brand claims to have a 50-mile range with a battery capacity of less than 500Wh, they are most likely deceiving you.
500-800 watt-hours
A battery with more than 500 watt-hours capacity is often intended for riders seeking additional range on bikes with powerful motors. With 11.6Ah and 48V or higher batteries, most of our bikes fall into this category. You can be confident that your bike will have at least 30 miles of range in any mode. In the long run, a larger battery will always win.
800 watt-hours or more
If a battery has more than 800 watt-hours, you can go for a long ride without worrying about losing power. The main disadvantage is that the larger the battery, the more expensive and heavy it will be. A battery with more than 800 watt-hours will cost more.
#2 Motor Wattage
Going bigger is only sometimes preferable, but it's essential to strike a balance between motor power and ride quality. Consider the motor wattage to be comparable to a vehicle's engine size. When you have a larger engine, you will have greater power, but you will also use more gas. Choose an engine size that corresponds to your needs.
250-350 watts
Most entry-level ebikes come in this size. Perfect for flat terrain and getting the maximum range out of your battery. Most people, though, will find some difficulties the moment they encounter a climb.
400-500 watts
This motor size will easily propel a 200-pound adult male up a hill at 20 mph. A motor in this power range will provide you with an exhilarating ride while also extending the life of your battery.
550-750 watts
A powerful motor like this can be useful if you're hauling heavy things up hills. However, for the ordinary individual, this might be excessive. A larger motor will not make you travel faster because the speeds are regulated by law and will deplete your battery faster.
#3 Motor Placement
Each type of electric bike motor has several advantages and disadvantages. Because of the scarcity of mid-drive manufacturers, most electric bikes nowadays are manufactured with either front or rear hub motors. Furthermore, hub motors provide greater power for the money you pay.
Front Hub Drive
Because you may pedal the back wheel while the front pulls, this motor simulates all-wheel drive. Although this works well on loose terrain like gravel, a front hub drive motor tends to slow us down on hills. Pulling a heavy load is more difficult than pushing it up a hill.
Rear Hub Drive
Because the rear wheel has greater weight bearing, these motors provide additional traction. Rear hub motors are also more "sporty" and get up to speed quickly. Although some claim that this motor would make your bike's back end heavy, this is not the case if the battery is situated away from the rear. Rear hub motors are also far less expensive than mid-drive motors.
Crank or Mid Drive
This motor type suits high-performance bikes and electric bike buyers with considerable budgets. Mid-drive motors are well-known for their ability to climb long, steep inclines, but this comes at a price. Mid-drive systems are much more costly and wear out the drivetrain components more quickly.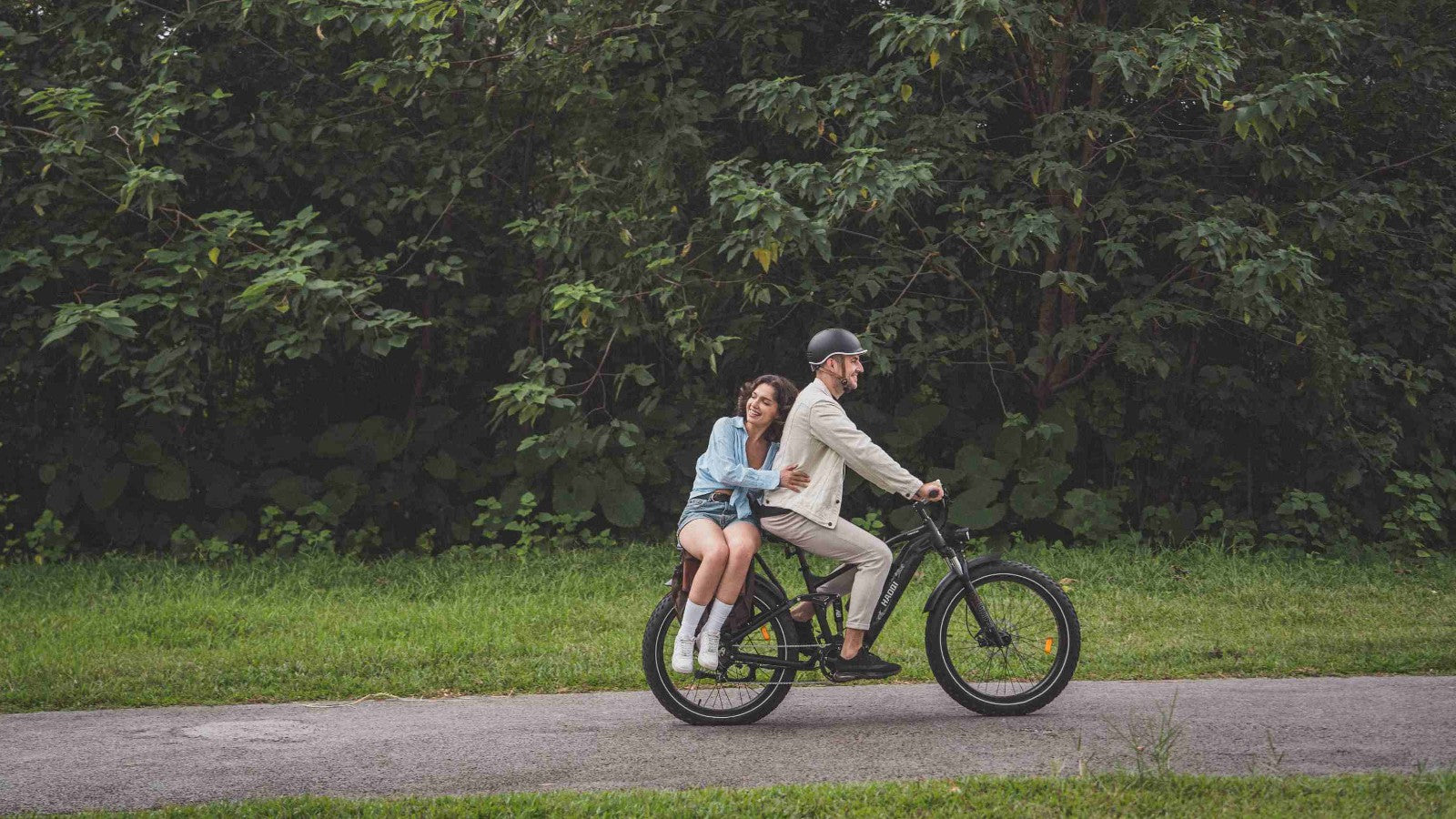 #4 Brakes: Caliper vs Mechanical Disc vs Hydraulic Disc
The ability to brake is one of the most under-recognized features of electric bikes. As experienced bicycle designers, electric bicycle brakes are the only suitable braking style on an electric bike, particularly on Class III bikes with top speeds of 28 MPH. However, there are two major kinds of disc brakes: mechanical and hydraulic. Before you buy an electric bike, be sure it comes with one.
Rim Brakes
While this is one of the most common brakes, there are better options than this one. Rim brakes provide excellent stopping power as long as the weather is clear and you're driving slowly. However, if your wheels happen to go through dirt or rain, you may weaken your stopping power. Disc brakes are always recommended for ebikes.
Mechanical Disc Brakes
These brakes are not impacted by mud or weather and are often less costly. Although these brakes are superior to rim brakes, they are cable operated and require a firm grip when braking. Stopping a hefty electric bike down a hill may be challenging and exhausting.
Hydraulic Disc Brakes
Although more costly, these brakes offer considerable advantages. Hydraulic brakes are the same as those seen in cars. If an electric bike has hydraulic brakes, anyone with any hand strength may easily stop it. Hydraulic brakes, unlike wires, are not impacted by grit or grease. We strongly advise purchasing an electric bike with hydraulic brakes.
#5 Ebike Classes
While specific ebike rules differ by state, California created the ebike class system to offer some standardization in the e-Bike space so that you may utilize one type of low-speed electric bike on routes or trails across America.
Class I has a less than 750 watts motor and is limited to 20 mph.
Class II motor, throttle, pedal-assist, and speed restriction of 20 mph.
Class III Throttle (max 20mph), Pedal-assist, and speed limited to 28mph (using pedal-assist).
Now that you know what to look for when getting an ebike, take a look at some of Haoqi's ebike offerings: 
Are you looking for a tool to extend your shipping efforts many miles out of the way? Like delivering takeout or shipping large products.
Antelope is our incredible dual-battery-powered bike. It has an impressive range of roughly 80 miles before needing to be recharged. Not only that, but it can readily handle loads weighing up to 350 pounds.
HAOQI Eagle Long Range Electric Bicycle
Take the road like a flying eagle in the sky, and enjoy the nimble and swift feeling of a HAOQI Eagle electric bike. Eagle is Haoqi's newly released fully upgraded ebike. 48V 20Ah LG/Samsung battery, upgraded soft saddle, 750W motor. Range up to 75 miles per charge. Upgraded hydraulic disc brake. System for more precise performance. Now available as a step-over & step-thru version. 
HAOQI Cheetah Full Suspension Electric Bicycle
Ride the spirit of adventure with Haoqi electric bikes. Cheetah is Haoqi's flagship electric bike with a full suspension system and a powerful 750W motor. The removable 48V 16Ah / 25Ah high-tech battery with a 2-year warranty guarantees you can drive 90 miles trouble-free.
All-Terrain Fat Tire Electric Bike
Conquer any terrain with the Fat Tire Electric Bike; you can easily go anywhere.
The Black Leopard, Equipped with a 750w motor and 48V lithium battery, can travel up to 60 miles per charge. Make it easy to travel through beaches and forests and enjoy your adventure.
Beach Cruiser Electric Bike
The cruiser electric bike is your best choice when you want to ride freely on the beach.
Take a ride on a White Leopard electric bike, and you'll see its advantages over traditional ebike. We engineered it to give off the right combination of sportiness and sleekness. You're getting the best of worlds with the White Leopard. Take the White Leopard to play now!
From commuters to adventure seekers, Haoqi has an ebike for everyone on your gift list.  This holiday season, give them the gift of electric mobility by purchasing a Haoqi Bike.
---