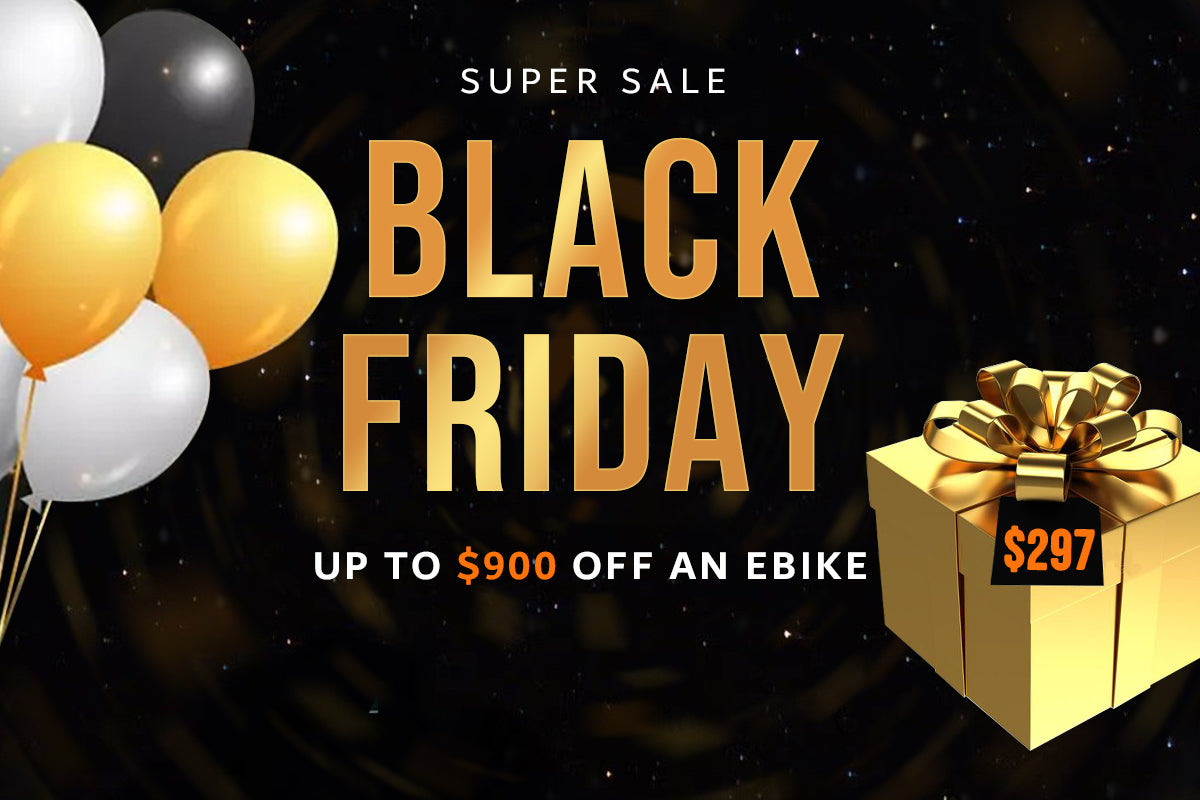 HAOQI Long Range Fat Tire Ebikes
HAOQI Ebike Black Friday Super Sale
Unleash the joy of riding with Haoqi Electric Bikes this Black Friday! Explore the world on two wheels with our premium, customizable ebikes. With speeds up to 28 MPH on pedal assist, these high-performance ebikes are perfect for off-road adventures or daily commutes. Take advantage of our Black Friday sale:
Get up to

$900 OFF an ebike

Get a free

$297 gift box

Save an extra $200

if you purchase any 2 e-bikes at once
For

every 300 orders, one lucky customer

will ride away with

a free ebike!

Our

lowest price promise

ensures no price changes until

January 1st, 2024
We proudly emphasize 100% certainty that each order delivers immediate, tangible benefits - from the gift box to the lowest price advantage. SHOP NOW and experience the certainty of joy on two wheels!
Save $900

HAOQI Rhino Electric Motorbike

$1,499.00

Free Shipping

15-Day Return

2-Year Warranty

The 26.1Ah Battery and 1000W Beastly Motor make Rhino a powerful ebike, which is built for speed, long distance and stability, making it perfect for all terrains.
Whether Sand, snow or tirals, Rhino got you covered and you can ride anywhere you like.
The reliable Kenda 20''x 4'' fat tires and hydraulic disc brakes ensure your rides solider and smoother.

1000W
Geared Hub Motor

Up to 90
Miles per Charge

52V 26.1Ah
High-tech Battery

Save $500

HAOQI Cheetah Full Suspension Electric Bike - Dual Battery Version Available

$1,899.00

Free Shipping

15-Day Return

2-Year Warranty

Cheetah is our flagship electric bike. Its full suspension system provides safer and more comfortable riding experience.
With the 750W powerful motor and the removable 48V 16Ah / 25Ah high-tech battery, you can ride up to 85 miles with less sweat.


750W
Geared Hub Motor

28 MPH
Top Speed

48V 16Ah / 25Ah
High-Tech Battery

Save $400

HAOQI Black Leopard Pro Fat Tire Electric Bike

$1,299.00

Free Shipping

15-Day Return

2-Year Warranty

Black Leopard Pro is our best-selling ebike.
Equipped with a powerful 750W motor and a 48V 20Ah High-Tech Battery, the Black Leopard ebike can ride up to 80 miles.
Its fat tires conquer all kinds of rough terrains including snow, beaches, rugged mountain roads and hills.

750W
Geared Hub Motor

Up to 80+
Miles per Charge

48V, 20 Ah
Lithium-Ion Battery

Save $300

HAOQI Antelope 500W Cargo Electric Bike

$1,599.00

Free Shipping

15-Day Return

2-Year Warranty

Equipped with a 500W Bafang motor and a 48V 25Ah High-Tech Battery, the Antelope cargo ebike can ride up to 85 miles. Its max speed is 25mph.
Excellent stability with versatile load modes for multi-purpose with the 20" x 4" fat tires.
It has a payload capacity of 350lbs. Perfect for hauling cargos and picking up kids.

750W Peak
Bafang Motor

Up to 85
Miles per Charge

48V, 25 Ah
Lithium-Ion Battery

Save $400

HAOQI Camel Electric Cargo Bike

$1,799.00

Free Shipping

15-Day Return

2-Year Warranty

Your "SUV" ebike, spacious, utility and versatile. Experience endless versatility with the HAOQI Camel Cargo Ebike. Powered by a potent 750W rear hub motor, it effortlessly carries your cargo. Dual batteries, fat tires, and advanced suspension guarantee unparalleled utility.

750W
Brushless Hub Motor

28 MPH
Top Speed

48V 27.8AH
High-Tech Battery

Save $300

HAOQI Squirrel Folding Electric Bike

$999.00

Free Shipping

15-Day Return

2-Year Warranty

With a powerful 500W motor, 5-level pedal assist, and responsive disc brakes, it's the perfect blend of style and convenience. Designed for heights 5.4"-6.8", experience comfort, compactness, and thrilling rides. Redefine your journey today and let the adventure unfold!

500W
Geared Hub Motor

7 Speed
Shimano Controller

48V 10.4Ah
High-Capacity Lithium Battery

Save $300

HAOQI Eagle Long Range Electric Bicycle

$1,599.00

Free Shipping

15-Day Return

2-Year Warranty

Powered by a 750W brushless Geared Hub Motor, the Eagle Ebike's upgraded soft saddle ensures a powerful and comfortable rides.
With the 48V 20Ah LG/Samsung battery, you can ride up to 80 miles.
The upgraded hydraulic disc brake is more responsive and safer to ride.

750W
Geared Hub Motor

7 Speed
Shimano Controller

48V 20Ah
LG / Samsung High-Tech Battery

Save $400

HAOQI Green Leopard Pro Fat Tire Electric Bike

$1,299.00

Free Shipping

15-Day Return

2-Year Warranty

Equipped with a powerful 750W motor and a 48V 20Ah High-Tech Battery, the Green Leopard Pro ebike can ride up to 80 miles.
Its fat tires conquer all kinds of rough terrains including snow, beaches, rugged mountain roads and hills.

750W
Geared Hub Motor

Up to 80
Miles per Charge

48V, 20 Ah
Lithium-Ion Battery

Save $350

HAOQI Antelope Pro 750W Cargo Electric Bike

$1,649.00

Free Sihpping

15-Day Return

2-Year Warranty

Equipped with a 750W Bafang motor and a 48V 25Ah High-Tech Battery, the Antelope Pro cargo ebike can ride up to 85 miles. Its max speed is 28mph.
Excellent stability with versatile load modes for multi-purpose with the 20" x 4" fat tires.
Antelope Pro has a larger payload capacity of 400lbs than that of Antelope.

750W
Bafang Motor

Up to 85
Miles per Charge

48V, 25 Ah
Lithium-Ion Battery

Save $400

HAOQI White Leopard Pro Step Thru Electric Bike

$1,299.00

Free Shipping

15-Day Return

2-Year Warranty

Equipped with a powerful 750W motor and a 48V 20Ah High-Tech Battery, the White Leopard Pro ebike can ride up to 80 miles.
The White Leopard Pro is also a beach cruiser ebike, you can ride freely on the beach, breathe the breeze from the sea and get closed to nature.

750W
Geared Hub Motor

28 MPH
Top Speed

48V, 20 Ah
Lithium-Ion Battery

Save $200

HAOQI Cheetah Pro Mid-Drive Full Suspension Ebike

$2,999.00

Free Shipping

15-Day Return

2-Year Warranty

Unleash the Cheetah Pro e-bike – the epitome of high-end cycling luxury and the ultimate soft-tail upgrade for daring adventurers. With a commanding 1000W Mid-drive Motor, dual battery prowess, and full suspension, this two-wheeled marvel redefines exploration. Its Intelligent LCD Display complements its captivating camouflage pattern, creating a bold statement on any terrain. Ride into the wild with seamless rider-machine harmony, as boundaries blur, and limitless adventures unfold. The Cheetah Pro isn't just a bike; it's your exclusive ticket to extraordinary exploration.

1000W
Mid-drive Motor

28 MPH
TOP Speed

48V 22Ah
High-tech Samsung Battery