Do you know how to correctly use your display?
We all know that the display screen is a small computer on your Haoqi ebike. It is very important to  learn this basically information. (This blog is written according to our devoted customers' questions)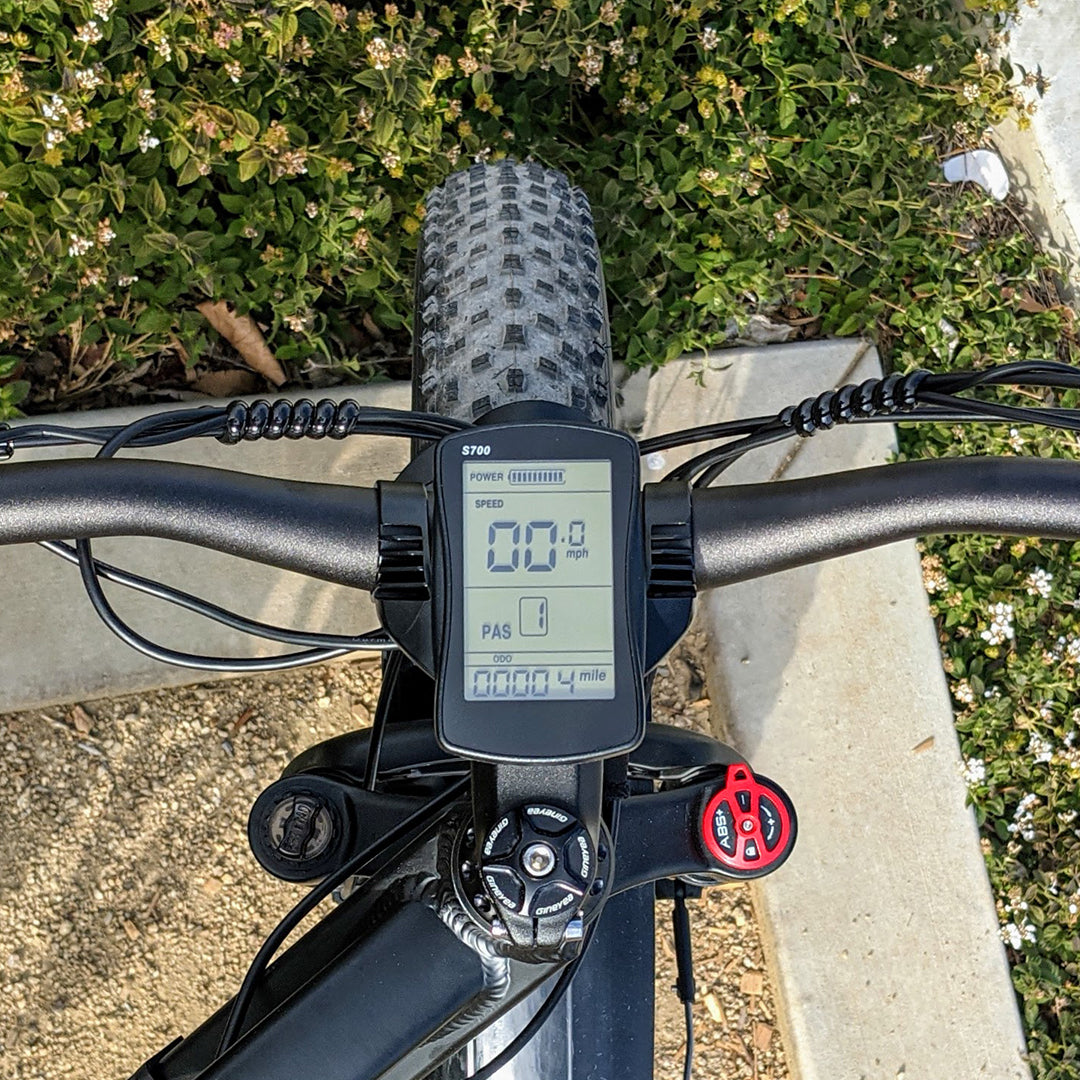 (photo provided by Clean Technica:https://cleantechnica.com/2021/05/08/the-haoqi-e-bike-is-a-bargain-fat-tire-e-bike-at-just-1499-cleantechnica-review/  )
Notice: If you want to adjust other figures, you would better contact with our aftersell customer service at first. 
This is what your display shows: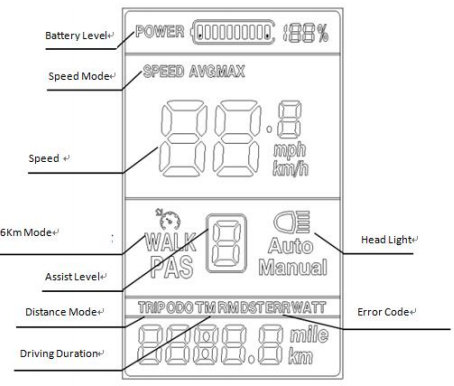 1) Battery level: 5 levels, voltage interval could be customized
2) Speed: Average SPEED/MAX SPEED/Real-time SPEED
3) Speed ​​unit: Kmh/MPH
4) 6km mode
5) Assist level: actual assist level 0~5.
6) Head light icon: indicates when head light and back light are on
7) Distance: Trip/ODO
8) Driving Duration
9) Error code: "ERROR" and code when there is error

 "up"  "Mode" or "M"  "down" 


1. Power on/ off
When the power is off, Long press (M/ Mode) 

during 3 seconds, screen will display all contents and start to normal
working mode, and controller will be turned on.
When the power is on, long presss (Mode) during 3 seconds, screen will be powered off,and controller will be turned off. if no
operation both on bike and display during 10minutes(time could be set), the display will turn off automatically, in this case, no power
consumption for both display and controller.
2. ODO/ Swith different speed information
Long press "UP" and "M" button, you can switch Speed, Max Speed, AVGSPEED.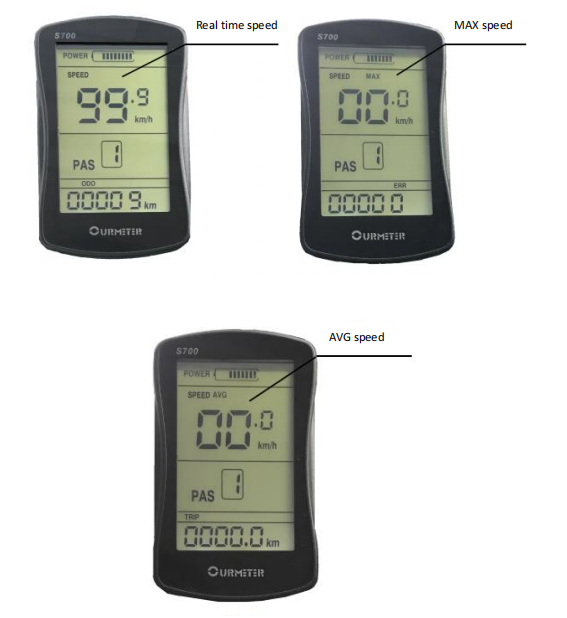 3. Head light controll
Long press "Up" for 3 seconds turn on/ off the head light.
Tail light controll
when you brake, the tail light will turn on.
4. Parameter setting
(1) P01-back light lightness
(2) P02-kmh/MPH
(3) P03-Working voltage
(4) P04-Auto shutdown time
(5) P05-Number of Assist levels
(6) P06-Wheel size selection
(7)P07-Number of magnets for speed sensor
(8)P08-speed Switch
(9)P09-Non-zero speed start
(10)P10-Driving mode selection
(11)P11-assist sensitivity setting
(12)P12-assist starting power setting
(13)P13-Assist magnetic disc types
(14) P14-Current limit for the controller
(15)P15-low voltage protection for controller
(16) P16-Reset ODO distance
(17) P18-Reset all parameters
(18) P18-Reset all parameters

All you need to know is Power on/ off, ODO/ speed switch information 
and how to use the front light and tail light. The parameter settings
has been setted from factory. There under most common cases, we do not need 
to change these settings.

whatever you are a Haoqi ebike owner or you want to purchase it right now,
if you have any questions, you can contact with us. Detailed ebike information: 
https://haoqiebike.com/discount/v  
---
1 comment
---
---